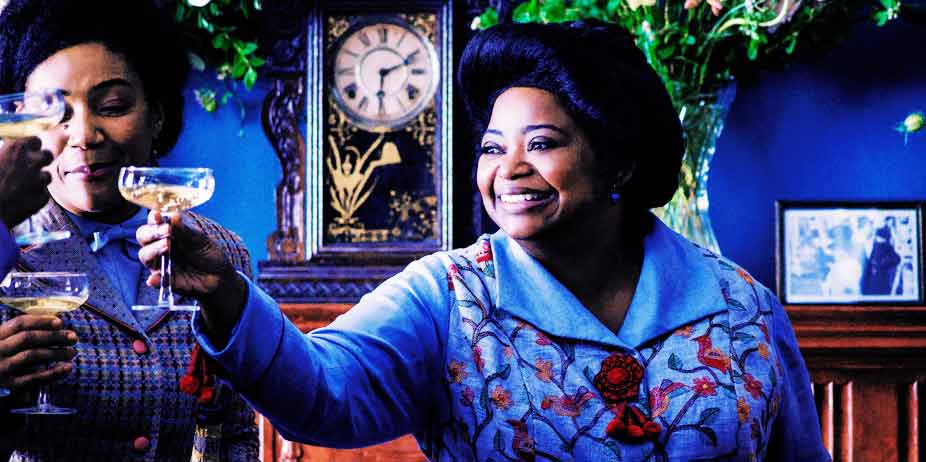 Self-Made: Inspired by the Life of Madam C.J. Walker (2020)
Reviewer: Charity Bishop
This miniseries centered around the first self-made female millionaire features an excellent cast, a somewhat stereotypical 'rivalry' between two women, and highlights an extraordinarily ambitious woman.
Sarah Breedlove (Octavia Spencer) suffers from a lack of confidence due to losing her hair. In a time when most products aim at making black women look more like white women, she finds her salvation in the hair tonic of Addie Monroe (Carmen Ejogo). Not only does it grow back her hair, it makes it luscious for the first time. Eager to make a name for herself and help other black women, Sarah asks the aristocratic, half-white Addie if she can peddle her product.
The answer is no. Addie wants a higher class of clients that might look on Sarah in disdain as a woman of the lower classes. When Sarah steals and sells a few bottles for her, to prove she can do it, Addie becomes furious and kicks her out as her laundress. Never one to quit, Sarah decides to come up with her own hair tonic—and it will smell better, too! She and her family, which includes her cheating husband Charles (Blair Underwood) and free-spirited daughter Lelia (Tiffany Haddish) start the beginnings of an empire.
From battles over buildings to a fire that destroys her kitchen salon, the woman who became "Madam C.J. Walker" competes with her rival, fights for the right for businessmen to take her seriously, and makes history in an interesting but not always compelling series. It is the kind of show that needed more than four episodes to tell its truth, and went a little heavy-handed on Addie Monroe. Making most of the plot revolve around two women scrapping, rather than their business smarts, seems a bit catty. But both women put their whole hearts into it. The series also assumes Lelia was a lesbian and includes her in relationships with other women; while the real one was a free spirit in the 20s in New York, and invited 'all kinds' to her raging loft parties, there is no evidence and her affairs eat up a lot of the screen time.
Some of the side characters are wonderful, and some of the experiences hard to watch (in one painful humiliation, the celebrity who she thought agreed to come to dinner… doesn't). The script is creative in how it plays out Sarah's inner world as a boxing match or a color musical! The first episode was splendid, but the subsequent ones never were as strong. The acting is terrific, and the series memorable for its highlighting of a hard-nosed, sometimes hard-to-like survivor, but sometimes it feels a bit thin.
Sexual Content
A graphic sex scene in episode three (movement, moaning, it lasts a long time). Strong undercurrent of lesbian attraction (women flirting with, looking longingly at each other, eating dinner together, and coming close to kissing). Implied sex between a married couple, one of whom has been cheating on her for months living with another woman.

Language:
A dozen abuses of God's name, some general profanities and racial insults, several f-words.

Violence:
A fire burns down a kitchen. Some domestic disputes.
Other:
The main character's ambition causes her to lie and cheat, and treat her family members with disrespect; out of jealousy, her husband betrays her, and her son-in-law turns against her and works for "the enemy."